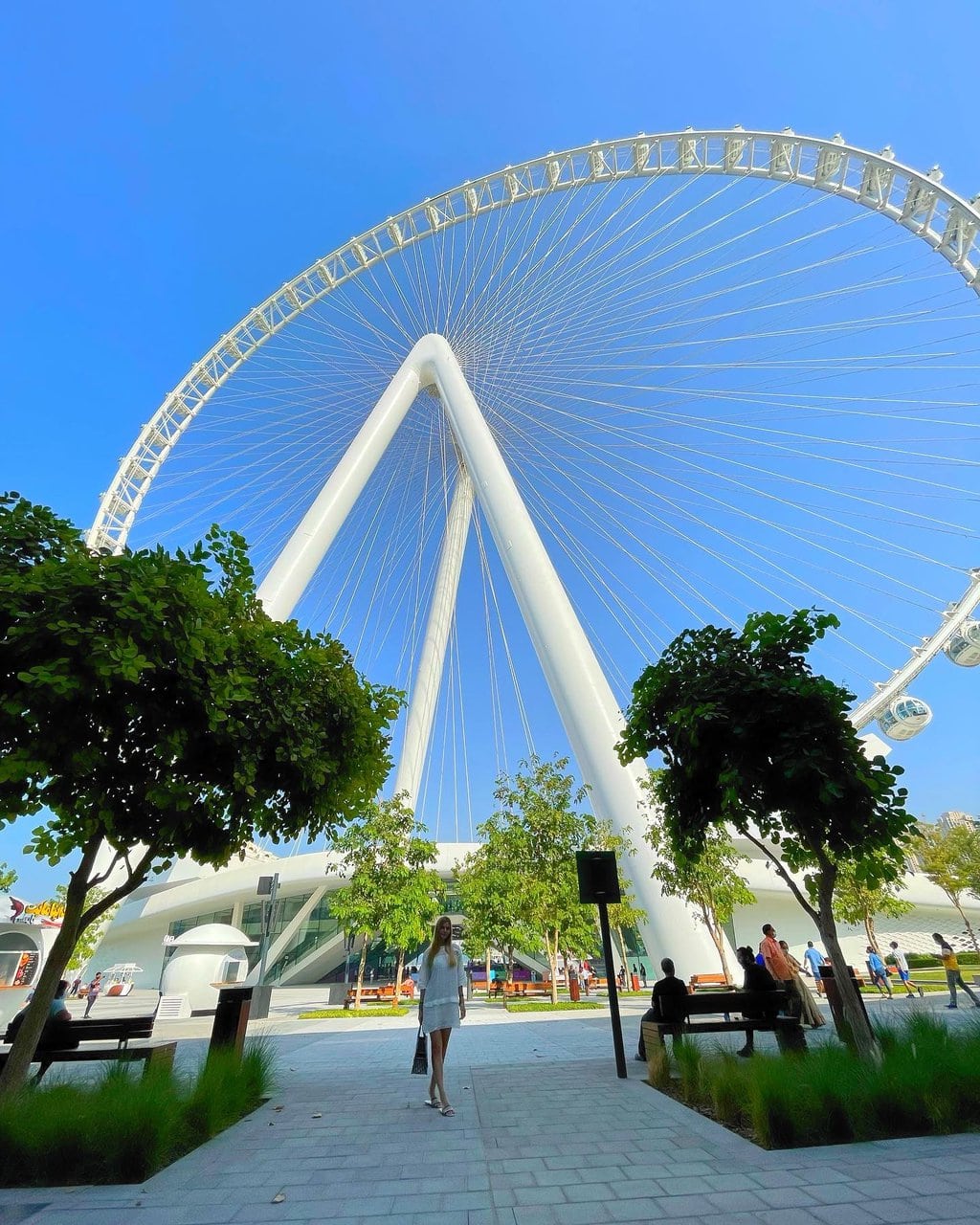 AIN DUBAI
Ain Dubai is the latest landmark in Dubai's long list of world record attractions. Located on Bluewaters Island, the Giant Ferris Wheel is 250m tall and is the tallest and largest Ferris wheel in the world.
The memorial is a stunning architectural feat: each leg of the wheel is 126m high, long enough to accommodate 15 London buses, and the assembled hub and spindle weigh as much as four A380 aircraft.
Al Ain Dubai (which means "Eye of Dubai" in Arabic) is accessible from the island and is surrounded by unforgettable social and celebratory events, making it a must-visit for everyone.
Located opposite the popular Jumeirah Beach Residence (JBR), Ain Dubai is just a 38-minute drive away and offers unparalleled 360-degree views of the city skyline. With 48 air-conditioned cabins, 1,750 tourists can enjoy a thrilling experience in one go.
Al Ain Dubai showcases the city's beautiful coastline, elegant views of Dubai Marina and dreamy glimpses of famous landmarks such as Burj Al Arab, Palm Jumeirah and Burj Khalifa. Open both day and night, visitors can explore both sides of Dubai in one journey – the skyscrapers sparkling in the sun or the landscape that gradually sparkles as night falls.
Al Ain Dubai is more than just a high ground that changes the perspective of the city. The base of the wheel is a premium entertainment area with a large LED screen mounted on top.
Al Ain Dubai ticket information
Visitors can enjoy three different pod experiences: observation pod, social pod and private pod. Visitors can enjoy a 38-minute drive, unparalleled views and photo opportunities at the observation pavilion, with family-friendly options also available.
For the ultimate in luxury, guests can book one of the many VIP boxes, which offer gourmet experiences and bespoke events, from lavish parties to special family-friendly occasions. Shared cabins also have access to Al Ain Dubai's sea view lounge where you can enjoy delicious meals.
Prices start from AED 130 for a pod ride and go up to AED 1,900 for a premium experience in a private cabin. For a complete list of Al Ain Dubai ticket prices, visit the official website and book your visit today.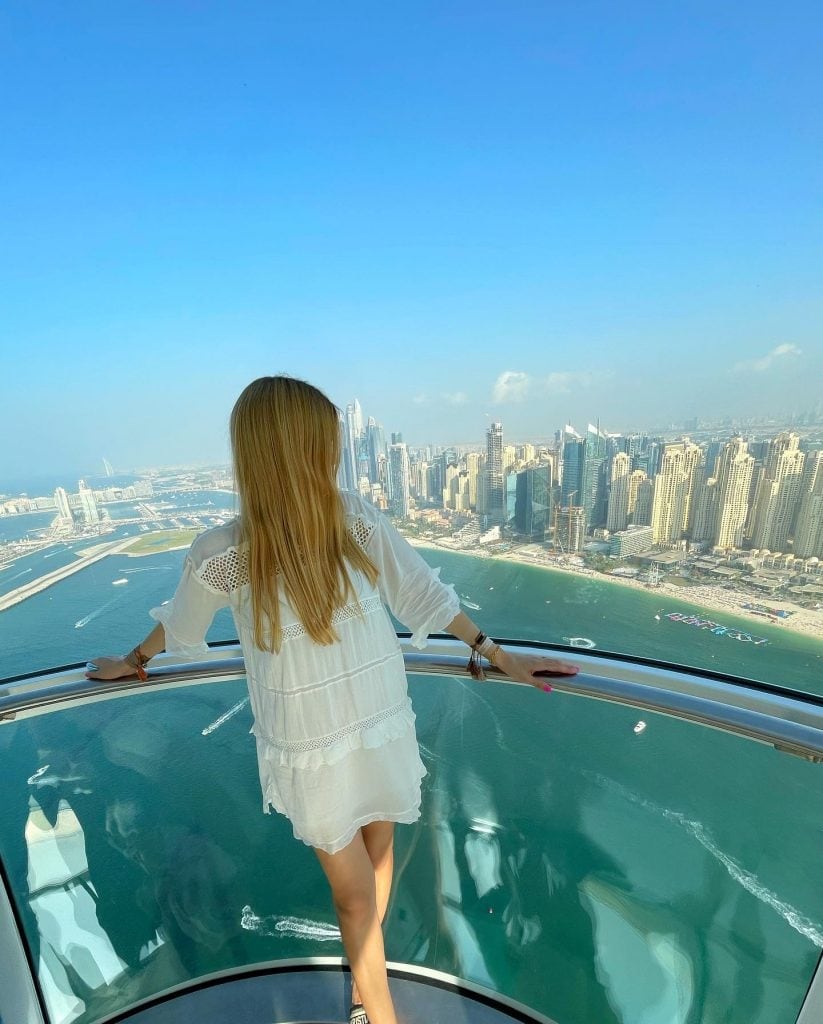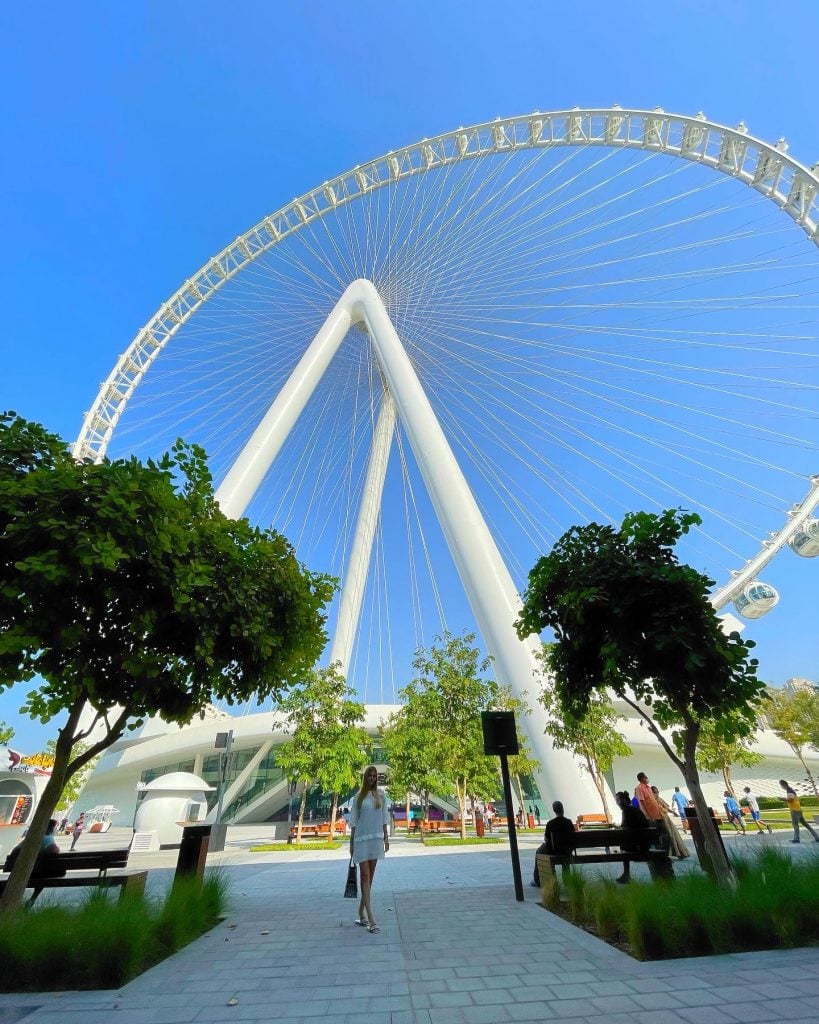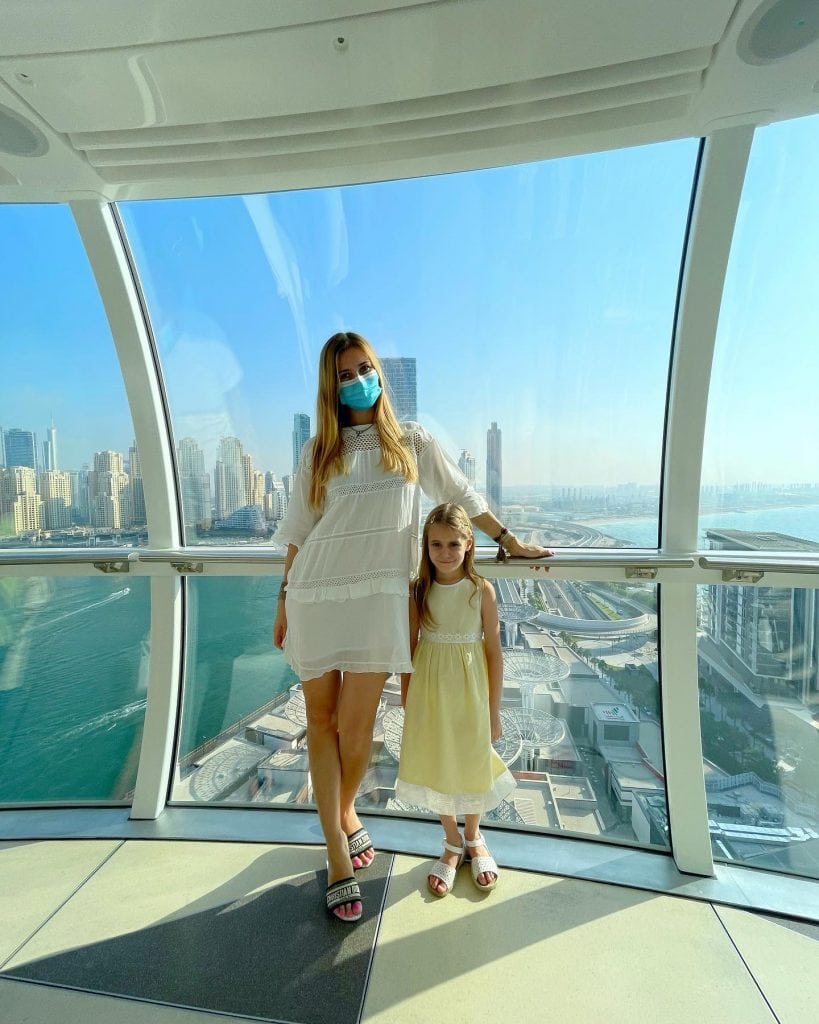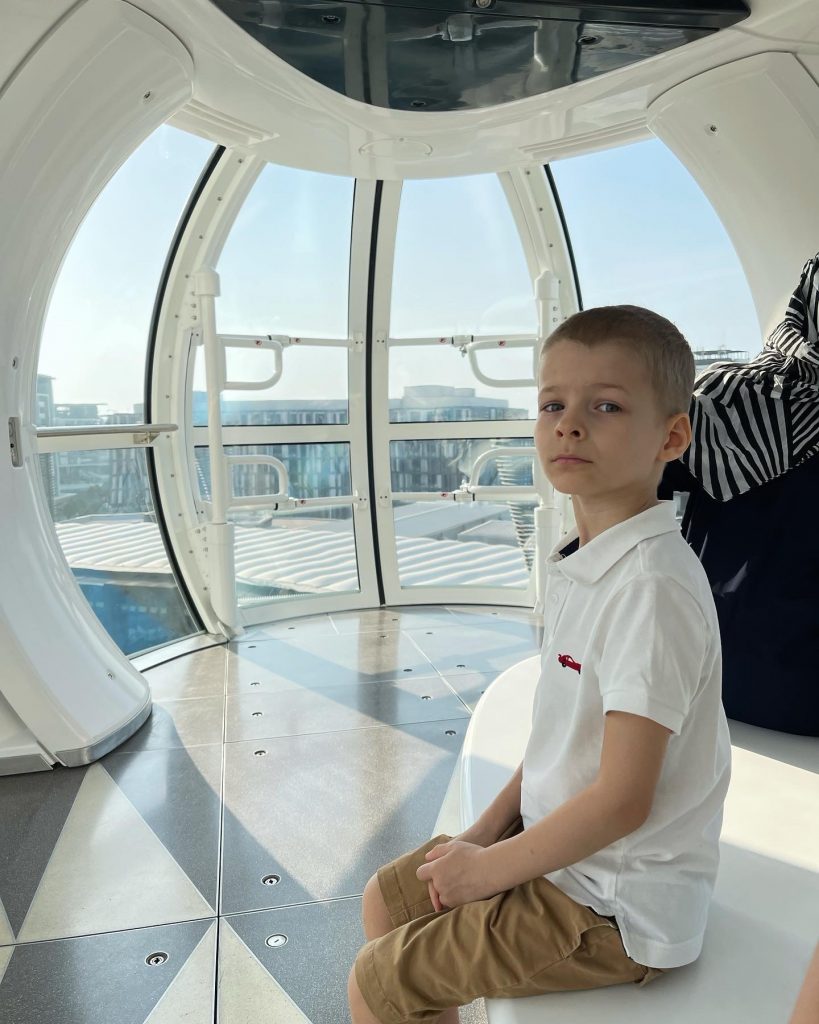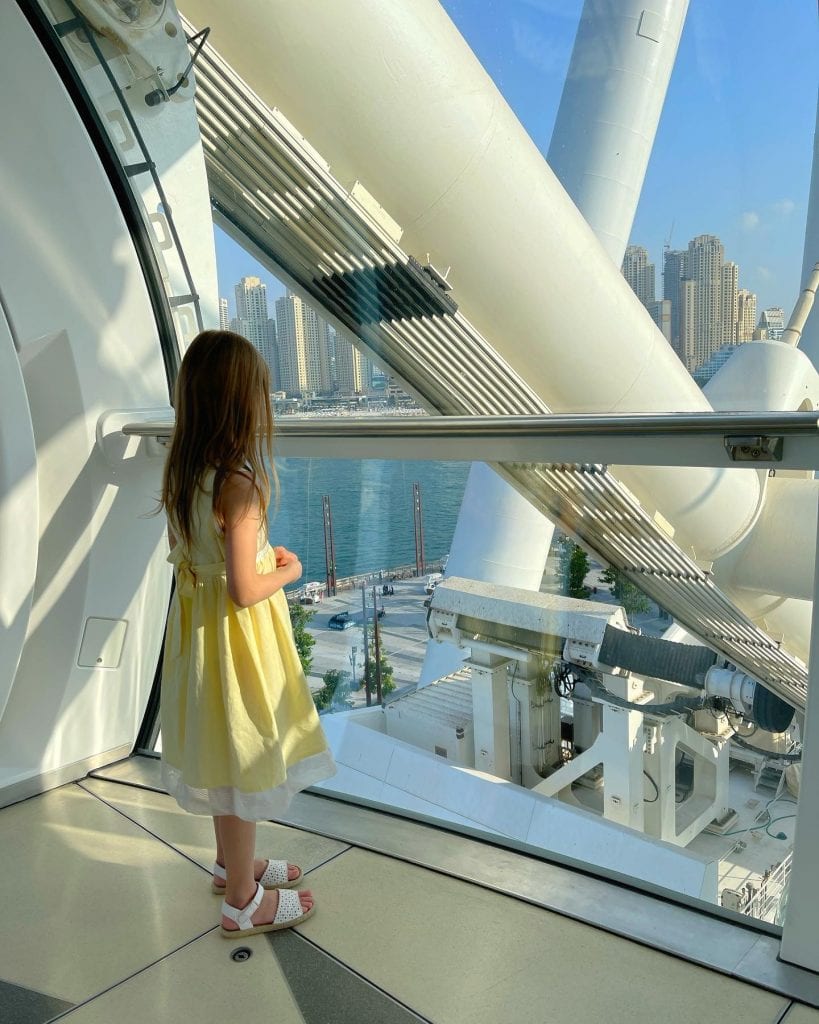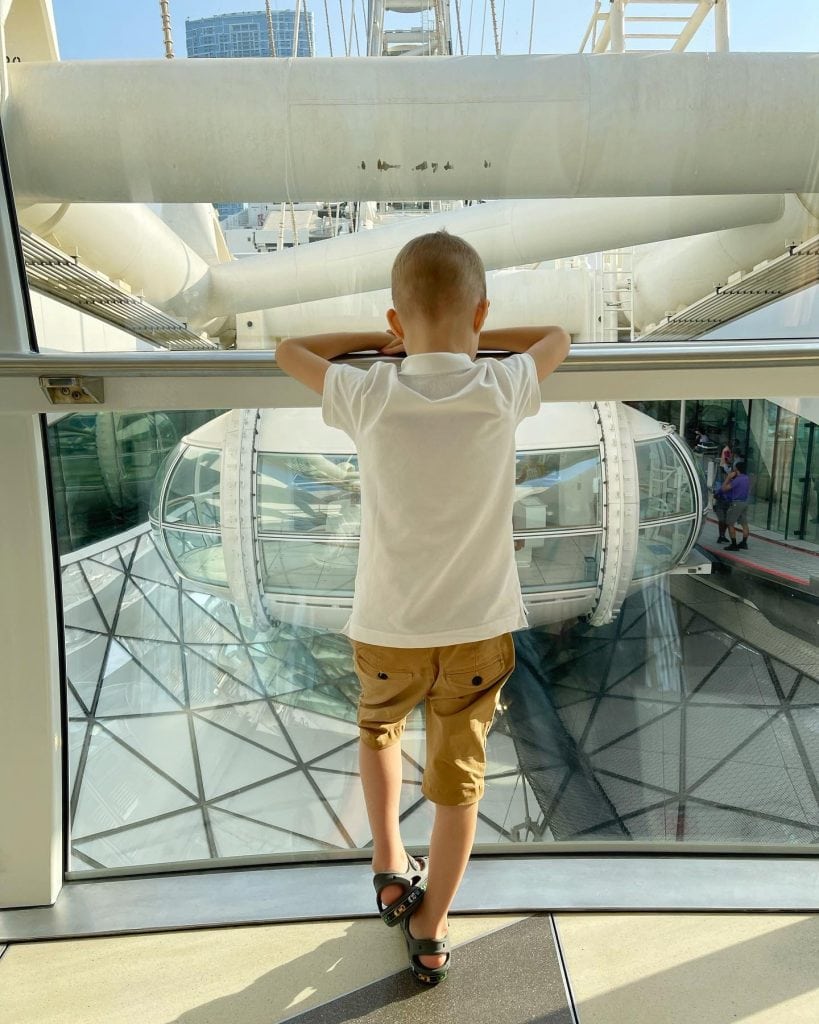 How to get to Ain Dubai
You can get to Ain Dubai using the below transportation options:
Dubai Metro & Bus: Board the Dubai Metro Red Line and get off at Jabal Ali Metro Station 4 which lies right next to Jebel Ali Metro Bus Stop Landside. Take bus line F57 to bus stop Bluewaters Island 1. From here, it's a 10-minute walk to Ain Dubai.
Water Taxi: You can also take the Dubai Metro Red Line and get off at DMCC Metro Station. Walk to Dubai Marina Mall Marine Transport Station (around 15 minutes) and take the water taxi BM3 to Bluewaters Marine Transport Station – it's a 10-minute walk away from Ain Dubai.
Please visit rta.ae for detailed public transportation schedules.

Alternatively, if you're driving, head southwest on Sheikh Zayed Road (E11) until you reach interchange Interchange 4 – Jebel Ali. Take exit D59 toward Dubai Marina/Jumeirah Beach Road. Continue on Al Seyahi Street, then follow the signs to Ain Dubai.