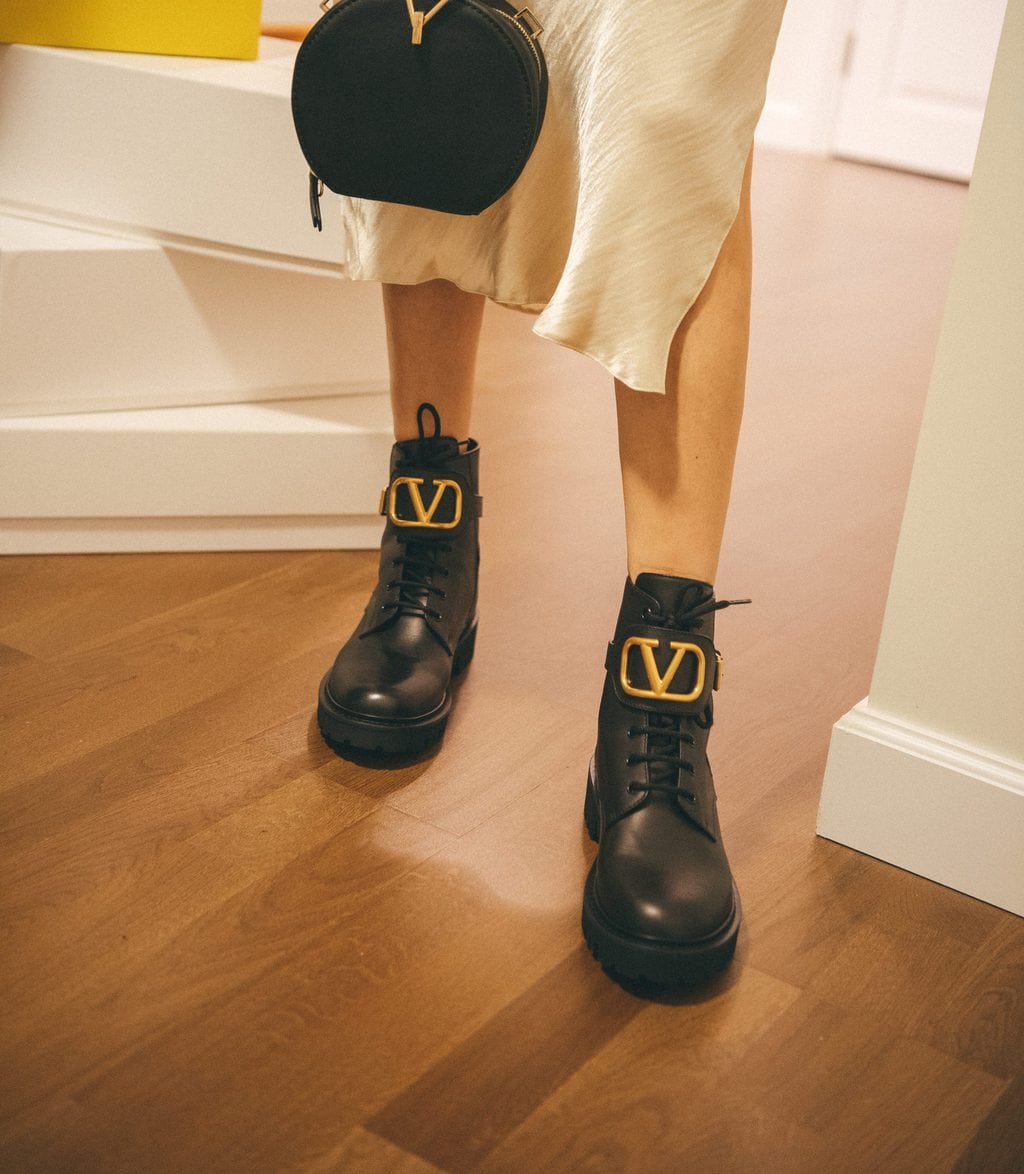 Valentino V-Logo Black Boots: How to Wear This Trendy Shoes
You know, how difficult it is: to find the perfect pair of black ankle boots. It is the same like with the perfect jeans that fits: it should be comfortable, but flexible enough to be worn with almost everything. And when you find these boots, you get it immediately: here we are, together for the whole season!
So, here is the thing. The other day, I received my long-awaited shopping novelty: black ankle boots with a lace-up front and a gold buckle in the form of the Valentino Garavani's logo, the capital V. Here they are, my new "military" boots: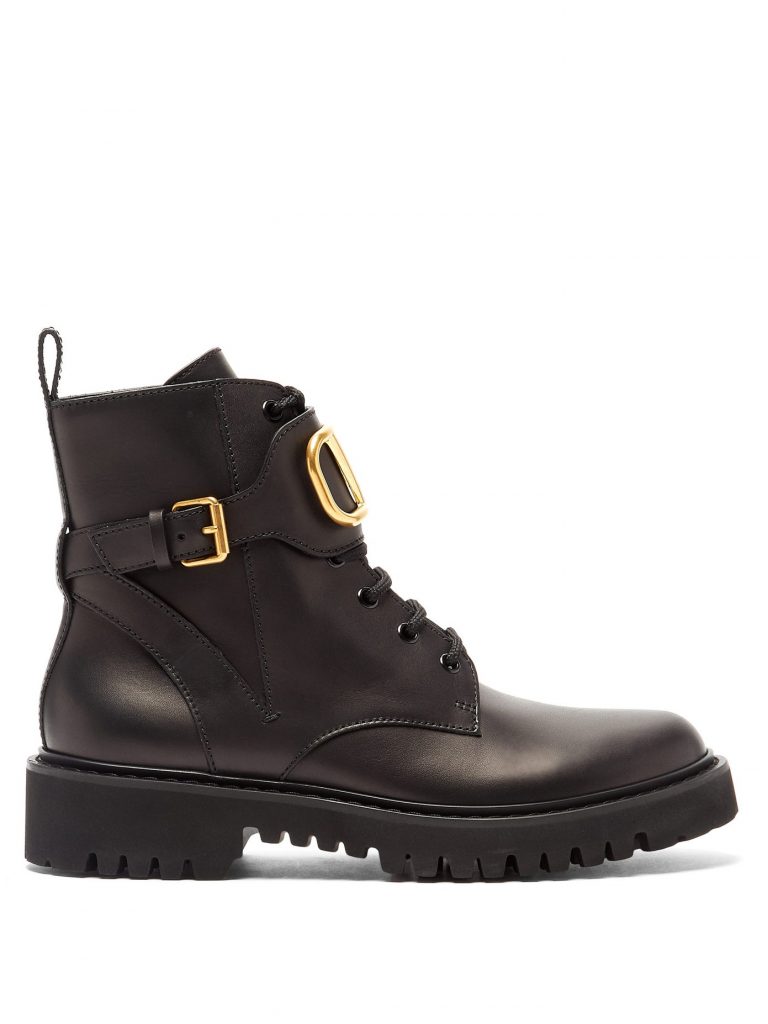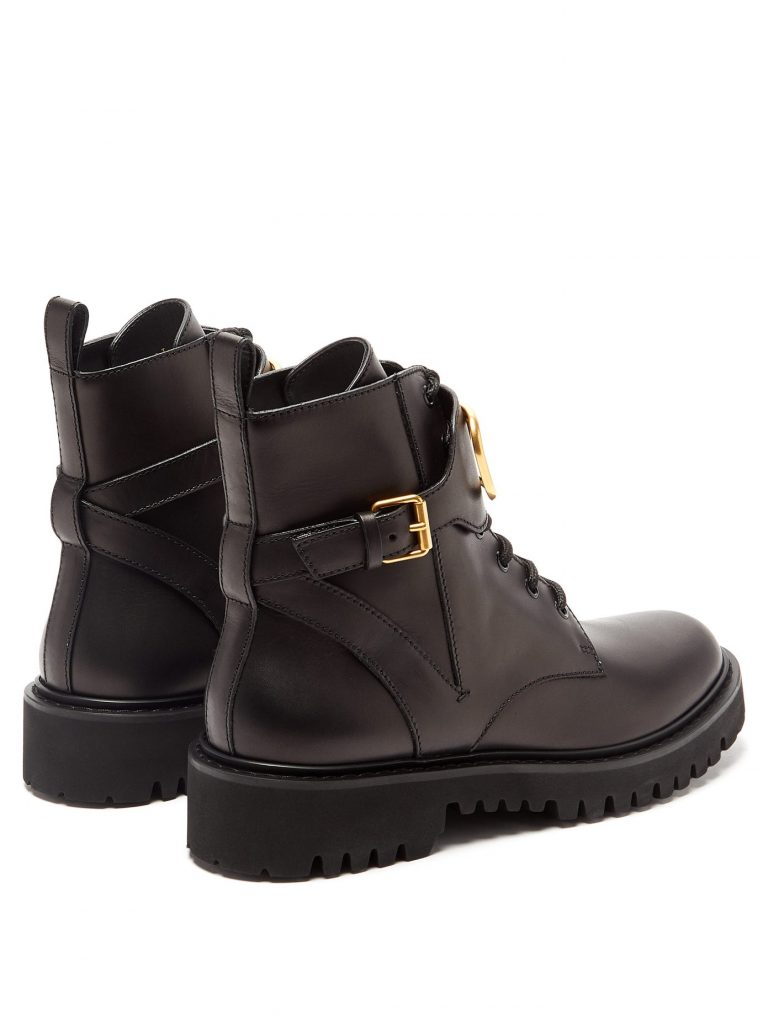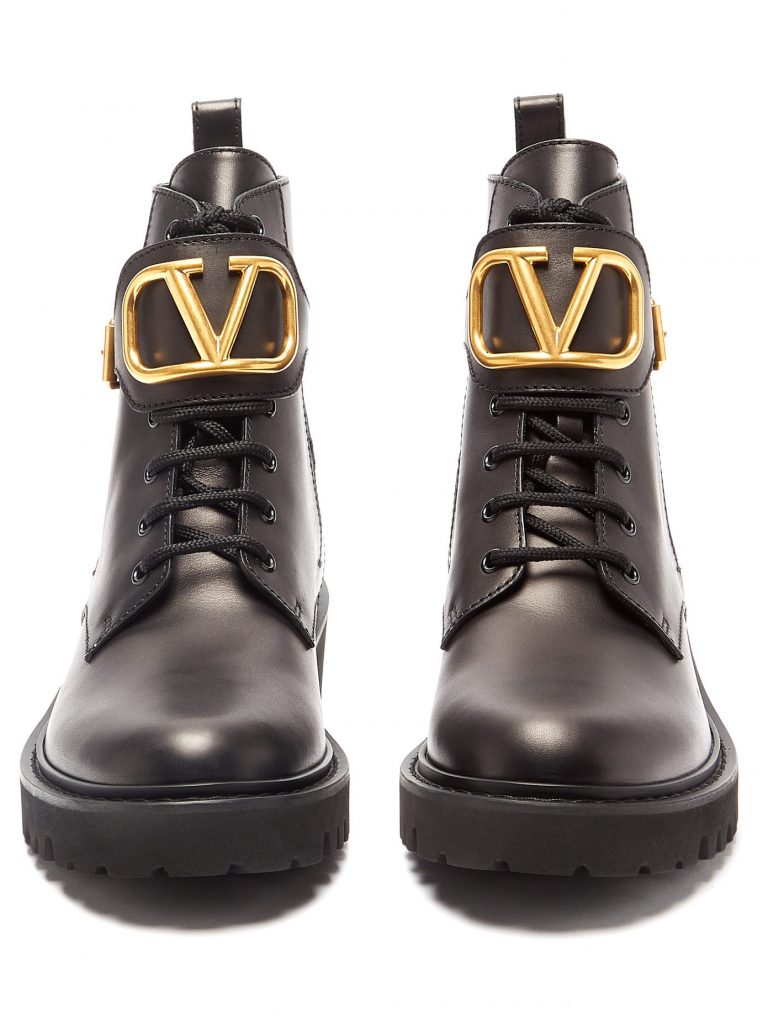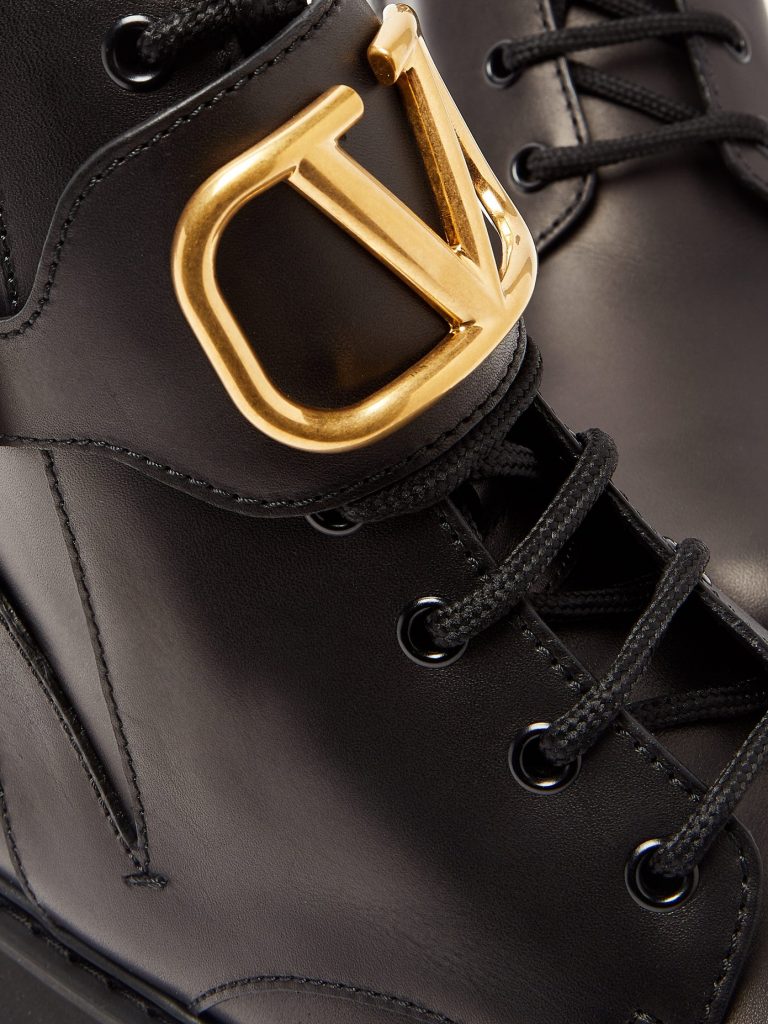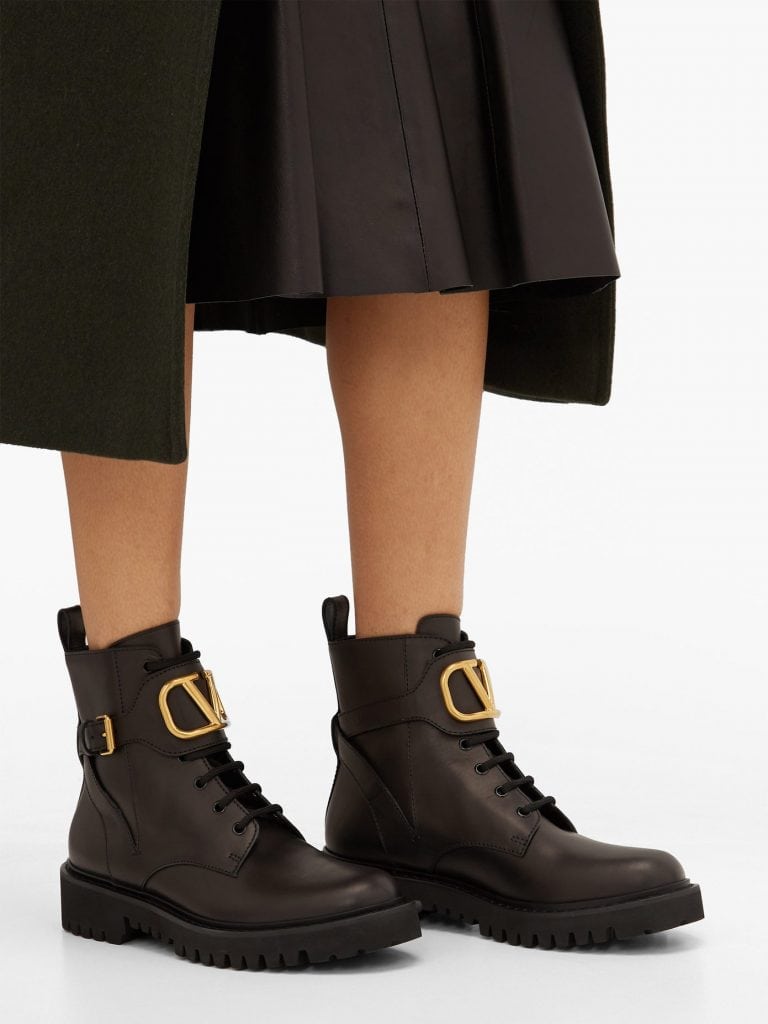 A detail that immediately catches your eye is this catchy V-logo on the front. I have long wanted to purchase similar black boots with a gold decoration. I already have black boots by Alexander McQueen, but the decoration on them is silver, and this requires certain combinations in outfit.
Why did I decide to buy Valentino Boots?
As a busy working mother, I am constantly on the move, so it is important to have stylish but fully functional winter shoes. At the same time, I don't do shopping anymore according to this principle "it should be in the wardrobe as a basic thing". To purchase shoes or clothes, I should love them very much, in other words, we should become friends.
First time I saw this model was in September, when I was checking out the new arrivals. These ankle boots by Valentino were available in my favorite online stores for shopping at net-a-porter.com, mytheresa.com and matchesfashion.com. Constructed from smooth black leather, with golden-colour detail, the original ankle boots just as I wanted, and it would be a great gift for me! I added them to my wish lists. As soon as the opportunity appeared I wanted to purchase them, but my husband wanted us to fly to Cyprus with children, and the shopping had to be delayed.
When we were back, there was no money – we have spent everything on vacation. But as soon as my new clients made an advance for the project, I decided not to miss my chance anymore! And here is the result, my ankle boots with V-Logo by Valentino.
If I devote a whole post to the same thing, then I really love this thing, just like with these boots. I am extremely happy that I was able to grab my size from the very first release of the collection, because now on 2 out of 3 shopping sites they put "Sold out".
Ankle boots by Valentino: must have for winter 2020
I would call this model one of the best shopping options for the mild Moscow winter (but just before the first snow drifts!). They are constructed from smooth leather, the toe is round and the front part is laced up. At the back there is a heel pull tab, so these shoes are very nice to wear, however, there are much more "pros".
V-Logo Valentino shoes are not just that beautiful shoes from the online store, they are also damn cozy to wear! I offer here the advantages of this model (except for such a catchy buckle):
Round toe
the tread sole, which is made from very high quality and robust material, allows you to go outside in any weather. After all, with children it is not always easy to wear ballerinas;
Ankle height – just what you need! It highlights the elegance of this part of our body;
Smart lacing, really functional, not just a kind of decoration.
All of these details add to the appeal of luxury shoes by Valentino. These "military" ankle boots are so comfortable that I want to wear them every day. But what should I do with other shoes from online stores?
How to wear Valentino New V-Boots in 2020?
I would like to write "the way you want, combine them with any look!", But that would be easy too much. The brand itself presents them on the Valentino Garavani's online shopping page with the following clothes: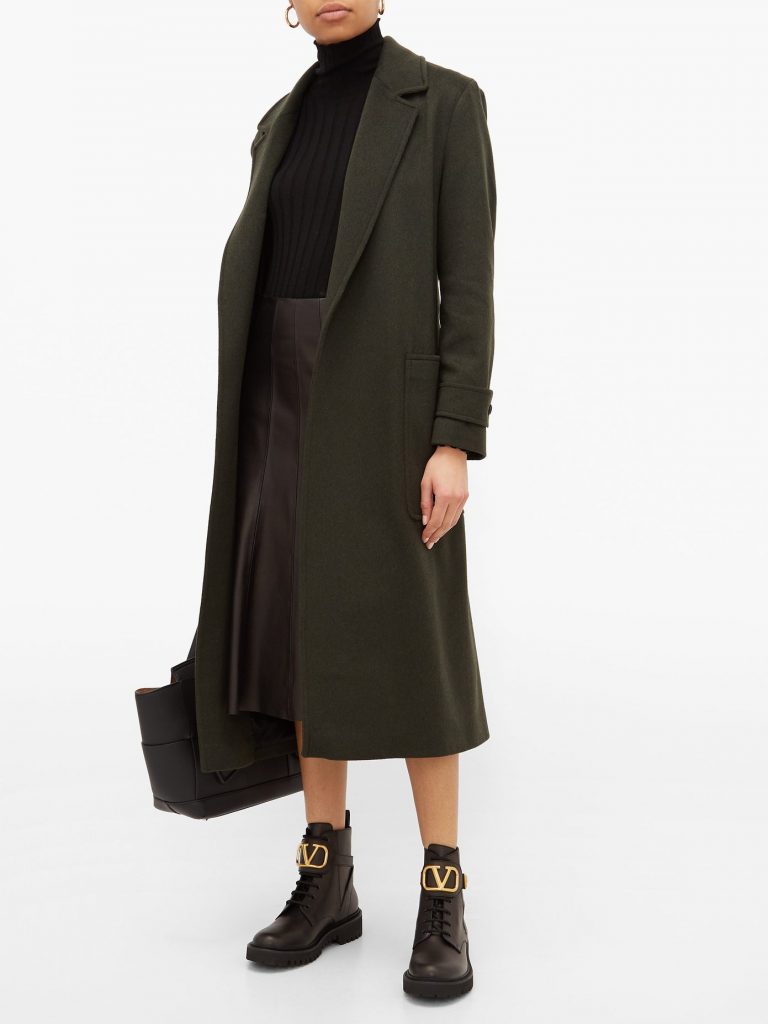 Here is the list:
Merino-wool high-neck sweater by Petar Petrov;
Balenciaga leather midi-skirt;
Sherringam by Burberry cashmere coat with belt;
Bottega Veneta Intrecciato Bag in Medium size.
Of course, this is typical Valentino – all in one colour. It is not necessary to follow this option. You can wear V-Logo boots with more colourful things or just white. Complement your look with a crew-neck sweater tucked into a midi skirt or combine boots with cropped ankle skinny jeans.
And here are my own outfits with this shoes. What is your opinion?
OUTFIT 1
Zara blazer, Asos dress, Mango handbag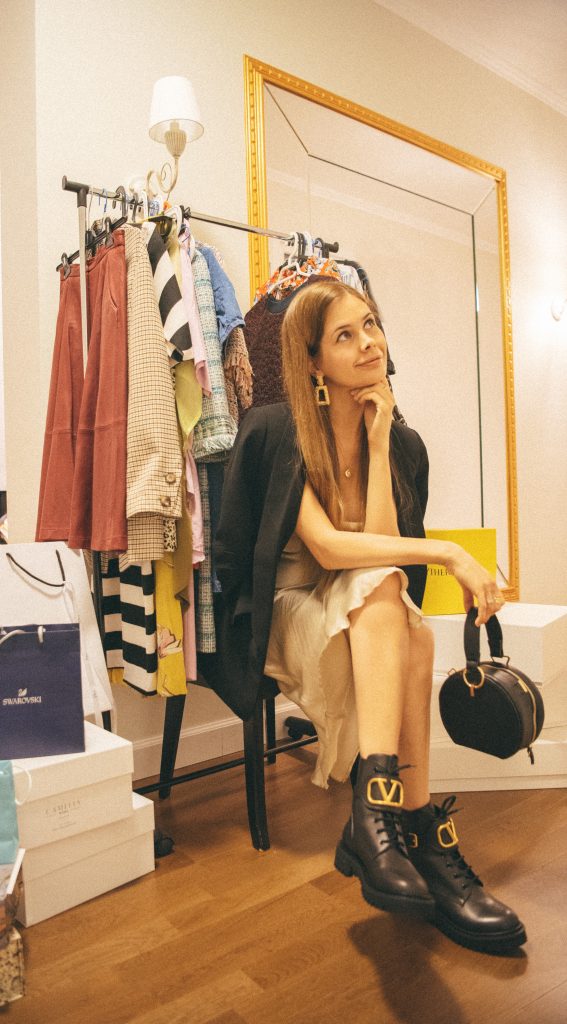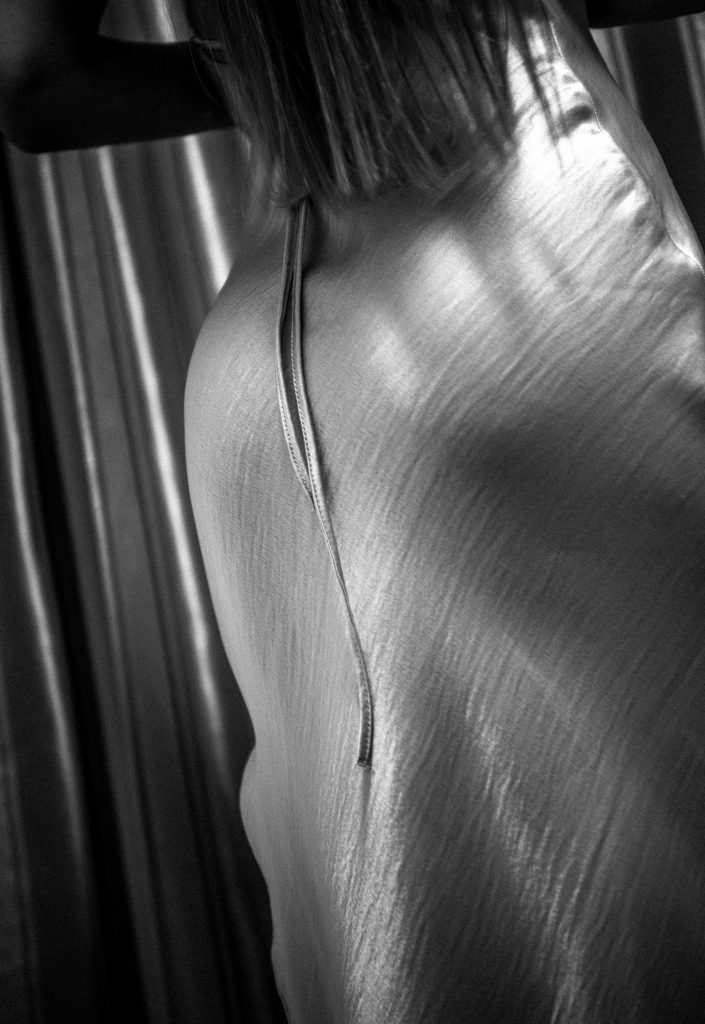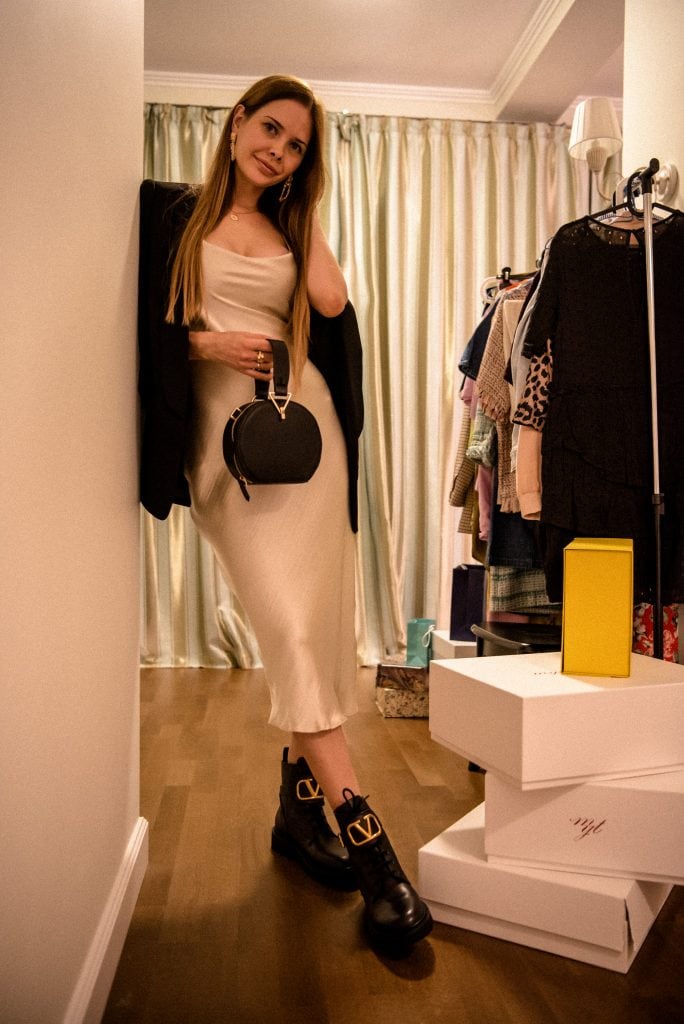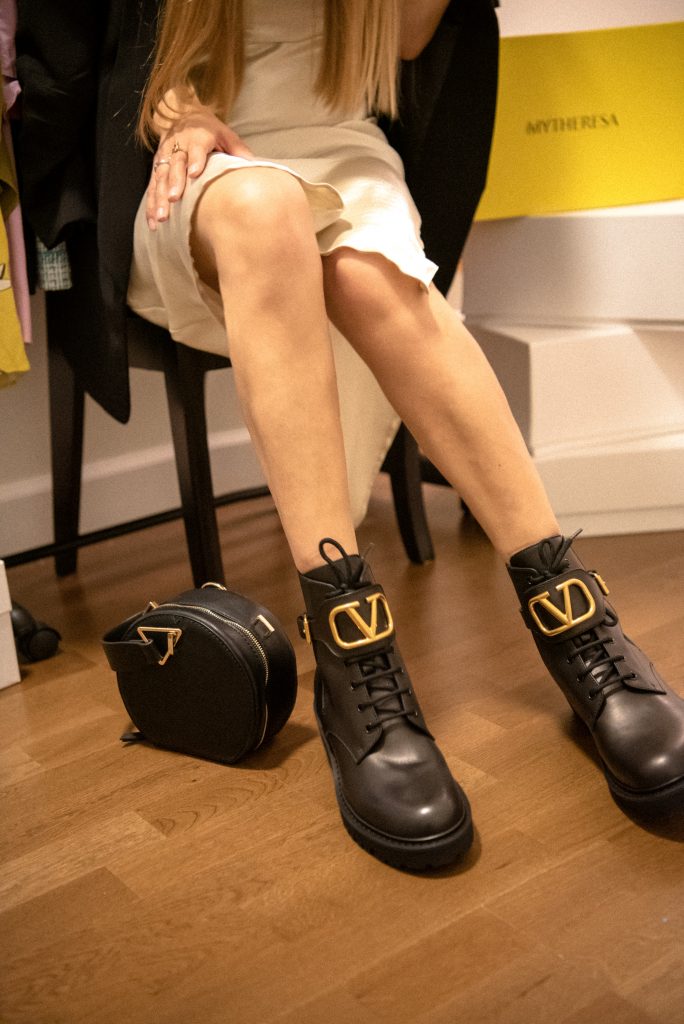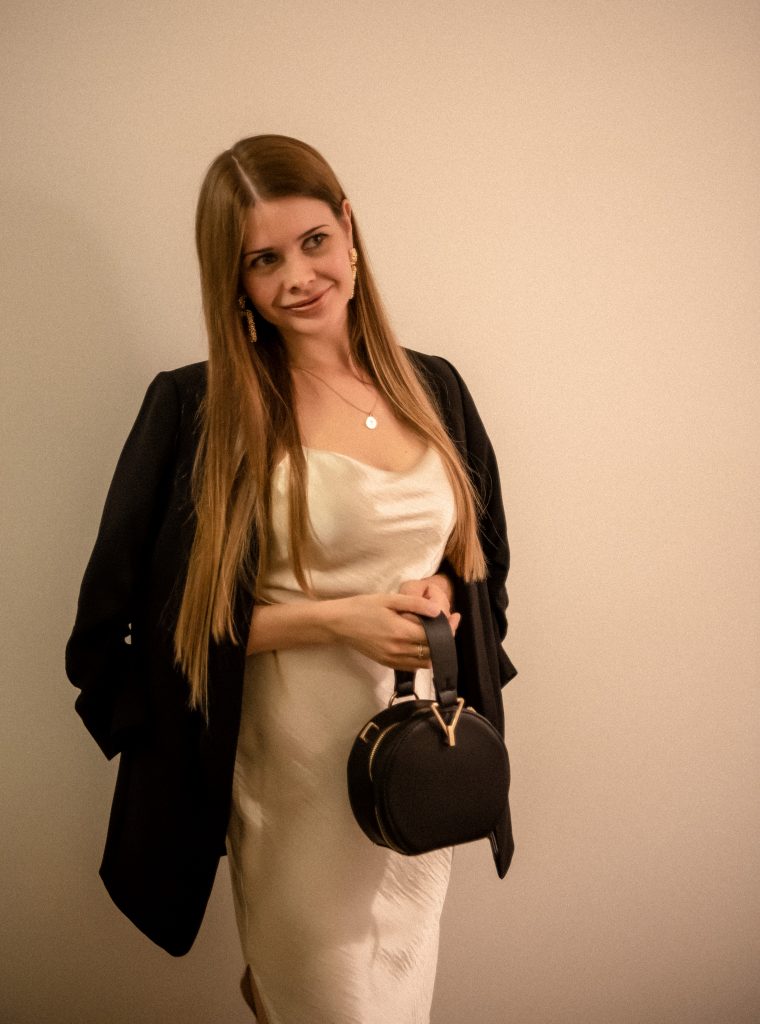 OUTFIT 2
Zara sweater, Cos jeans, Asos hairpin, Max Mara coat, Swarovski necklace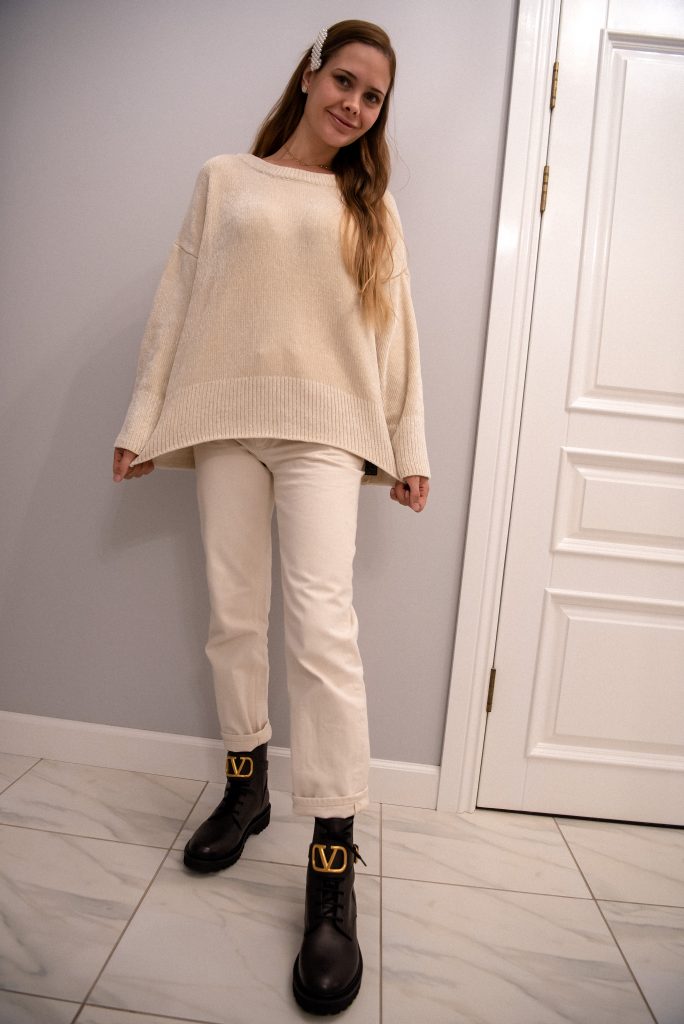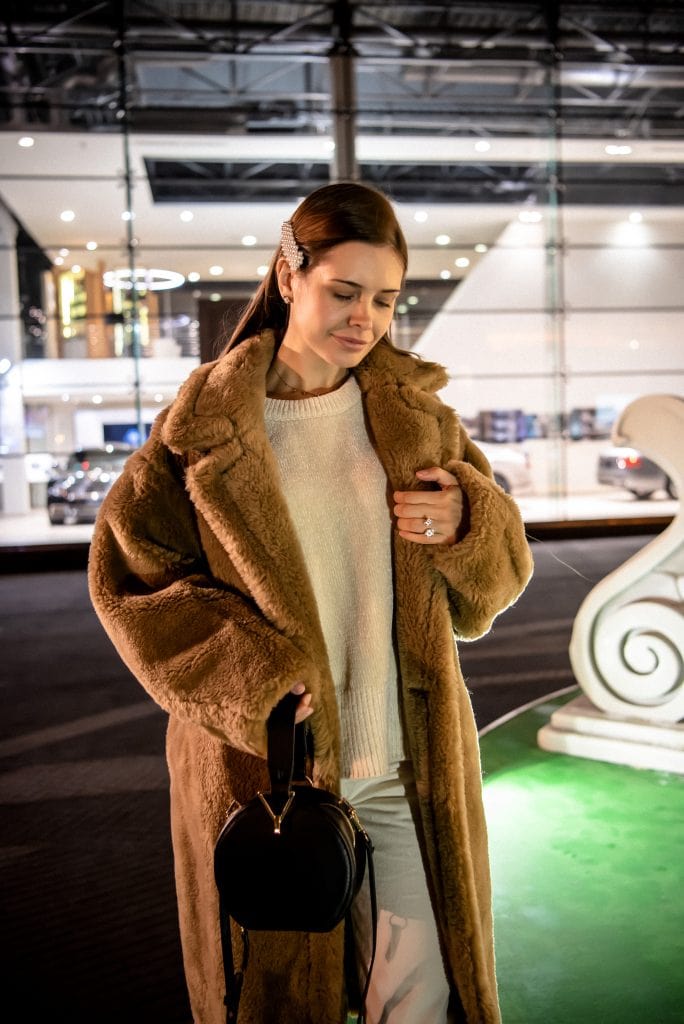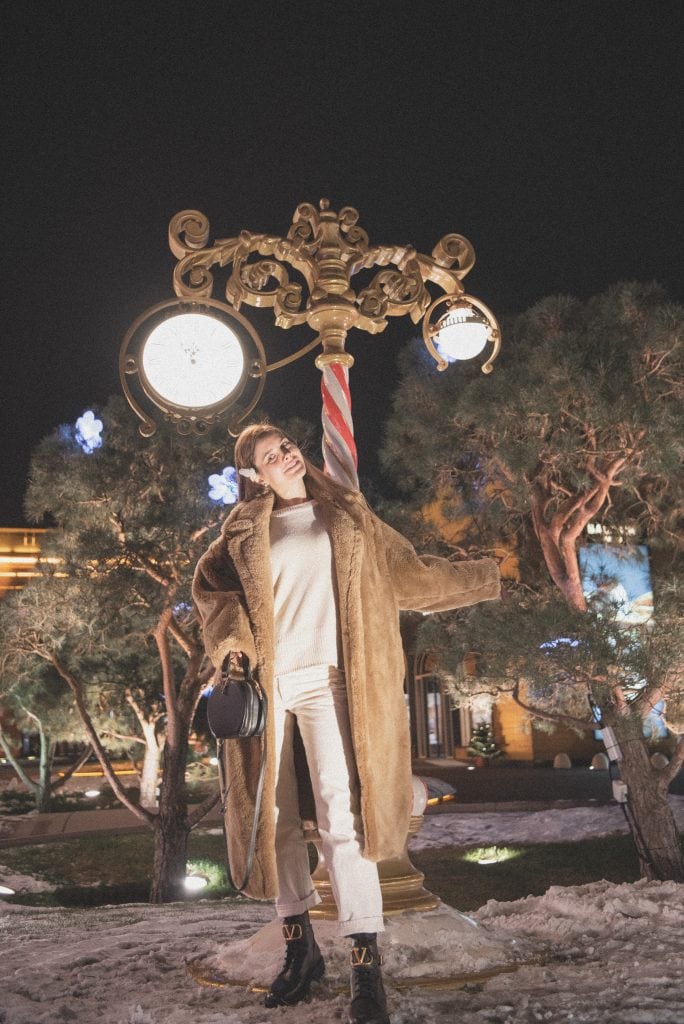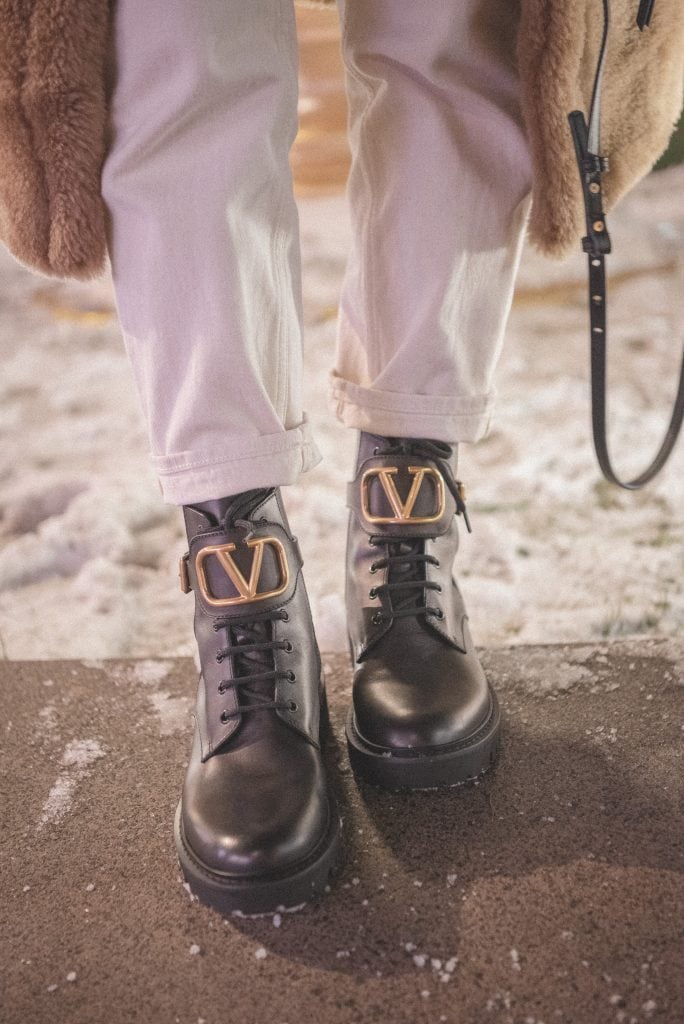 OUTFIT 3
NA-KD coat, Mango sweater, Zara skirt, handbag from Asos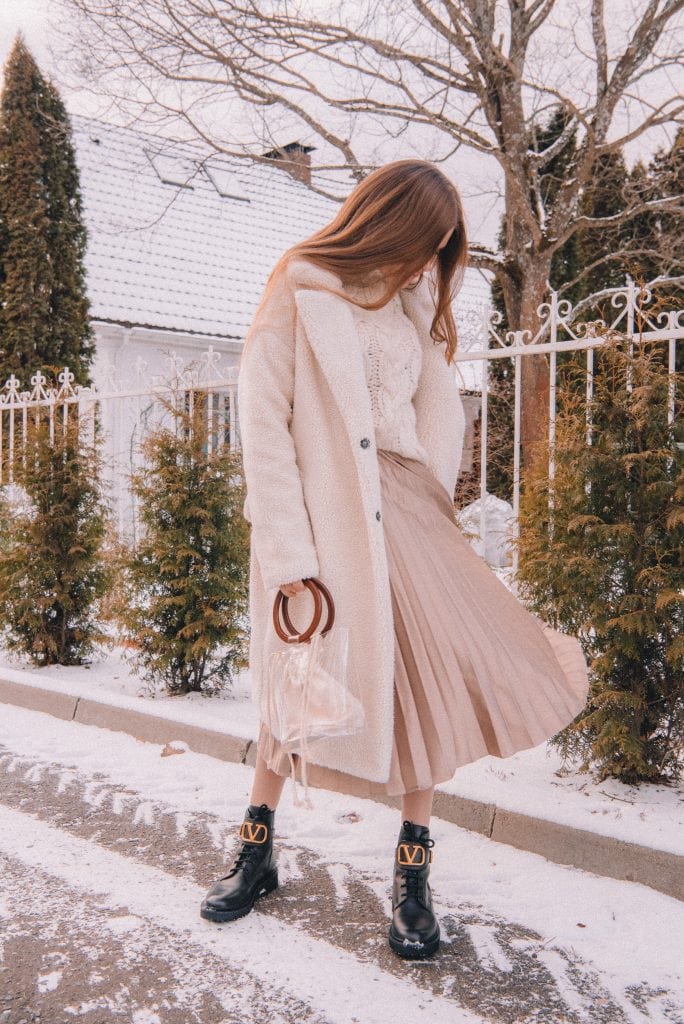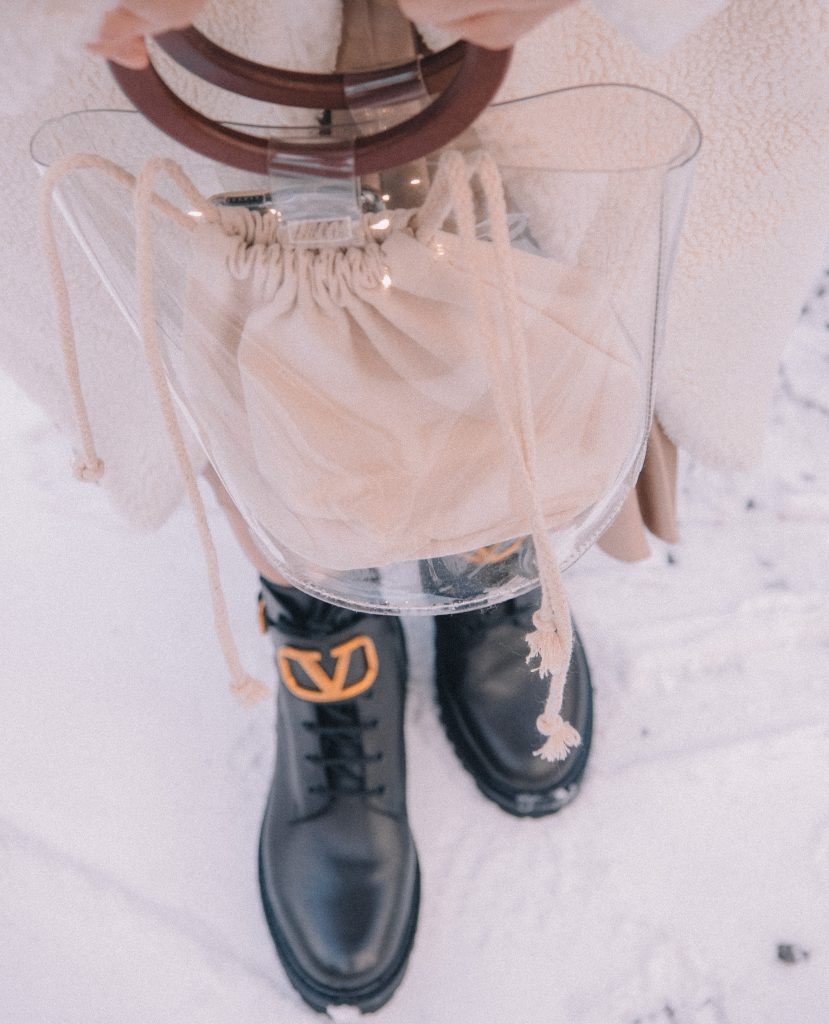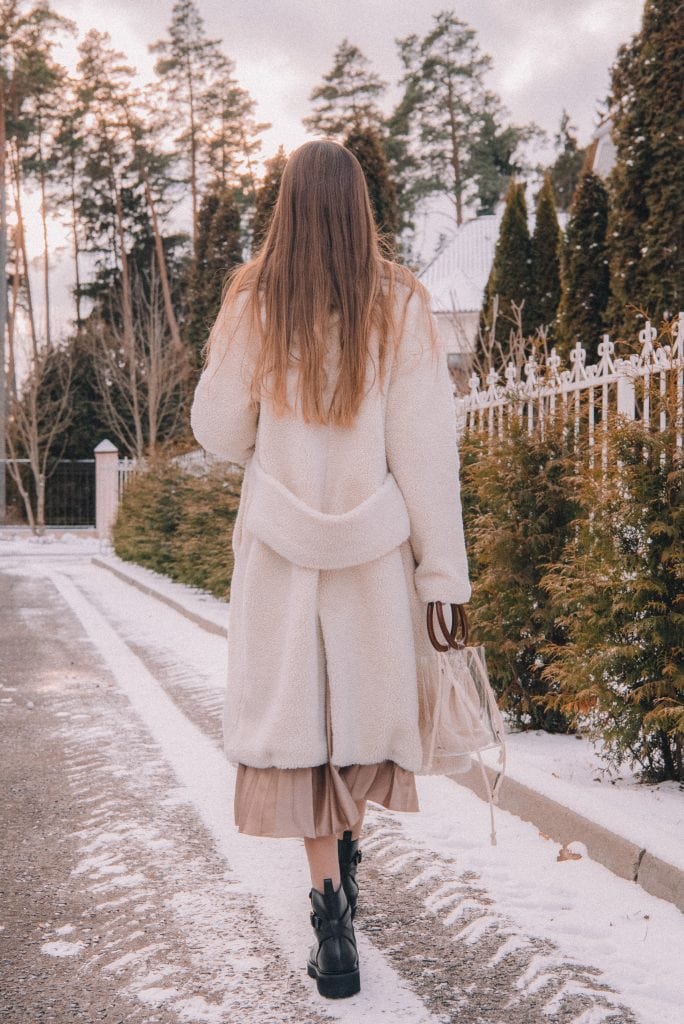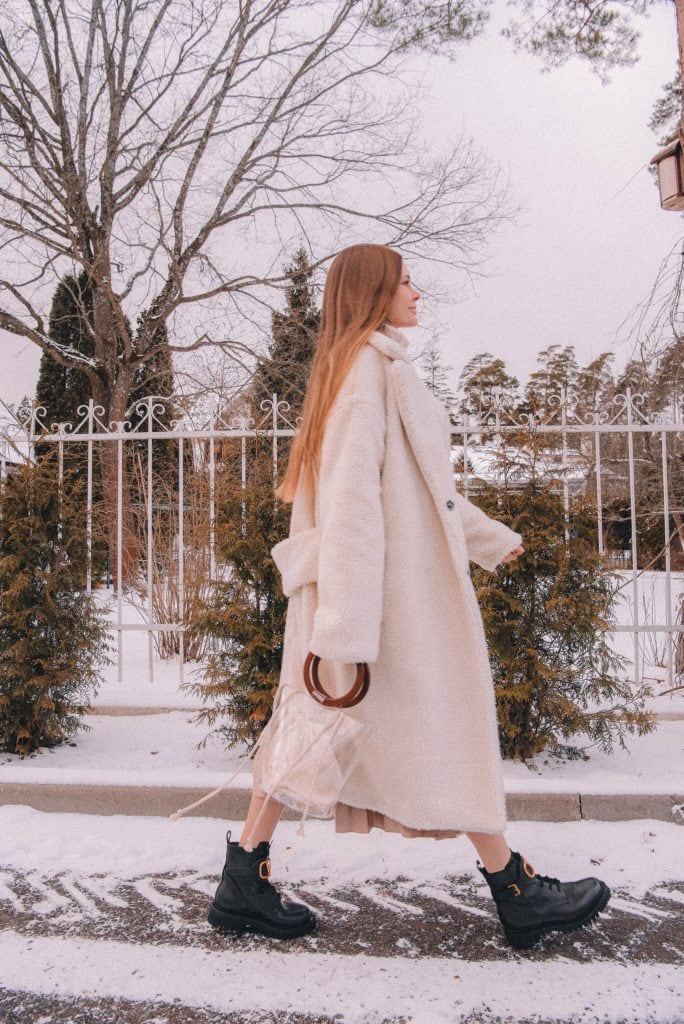 OUTFIT 4
Sweater from Asos, STAUD handbag, HM jeans, PANDORA jewelry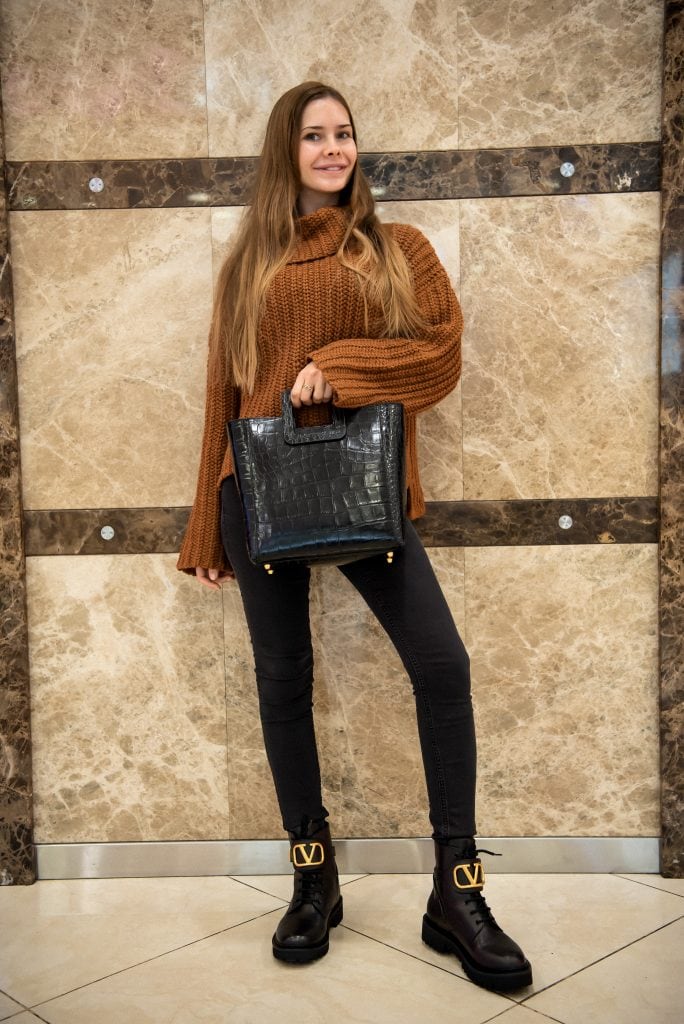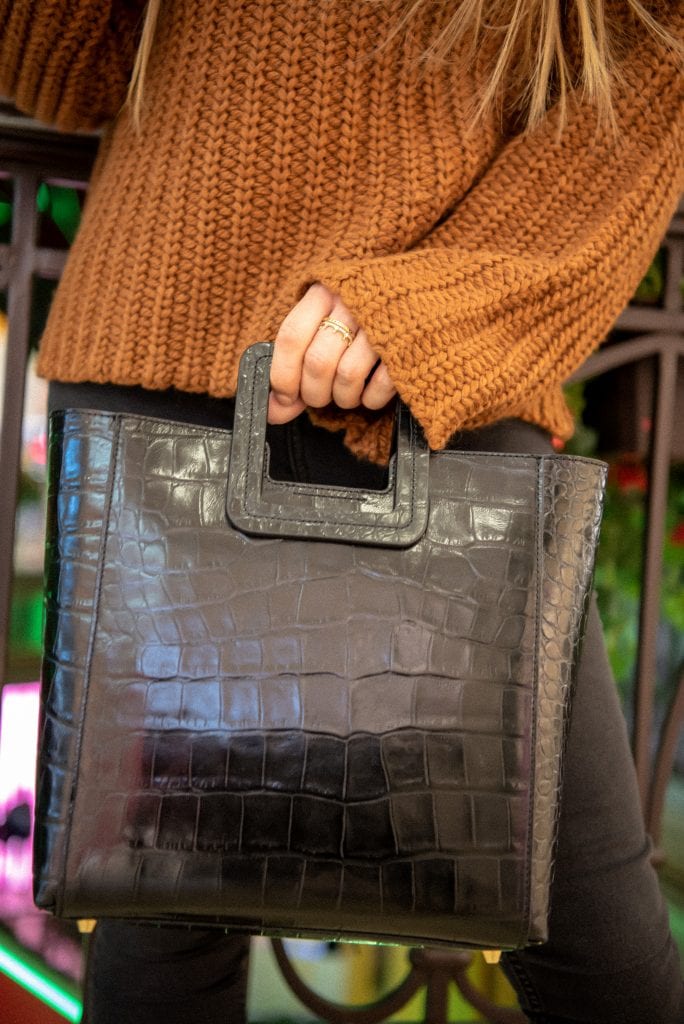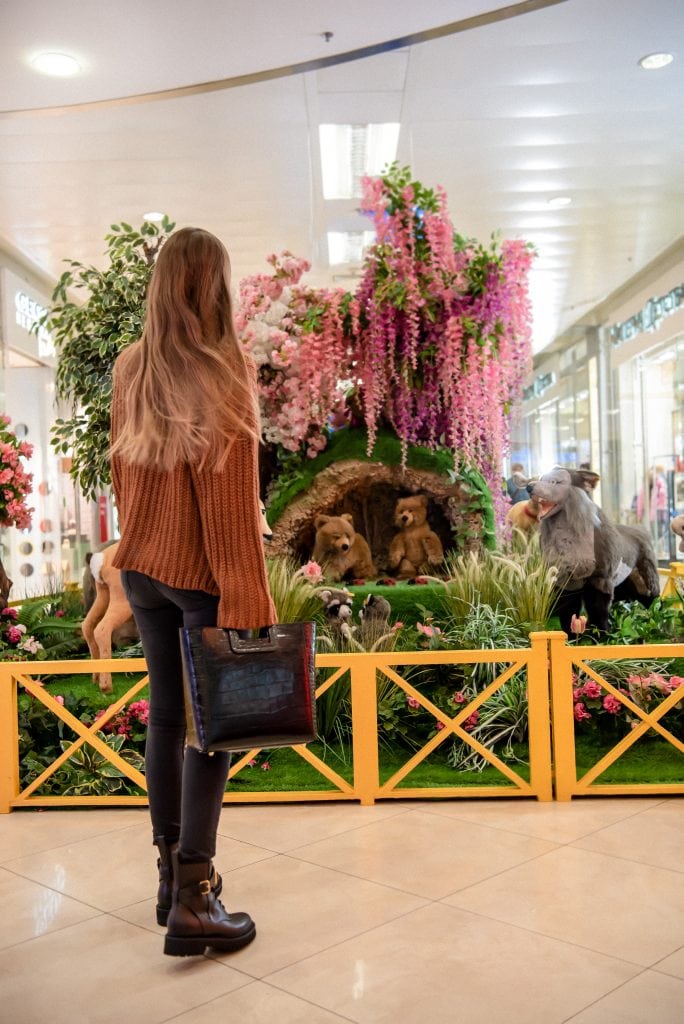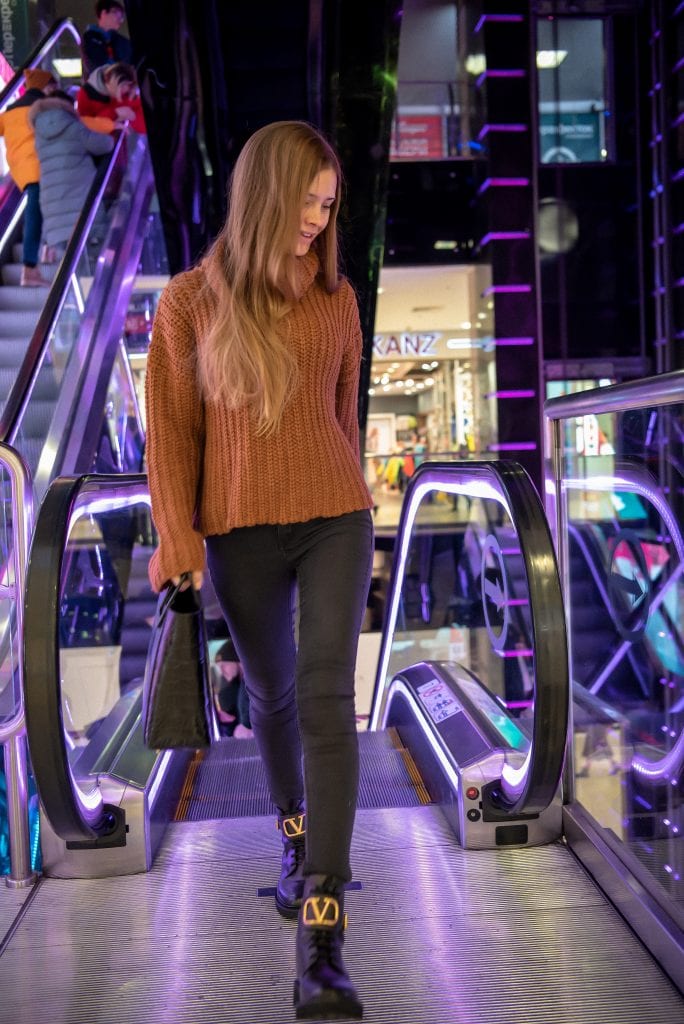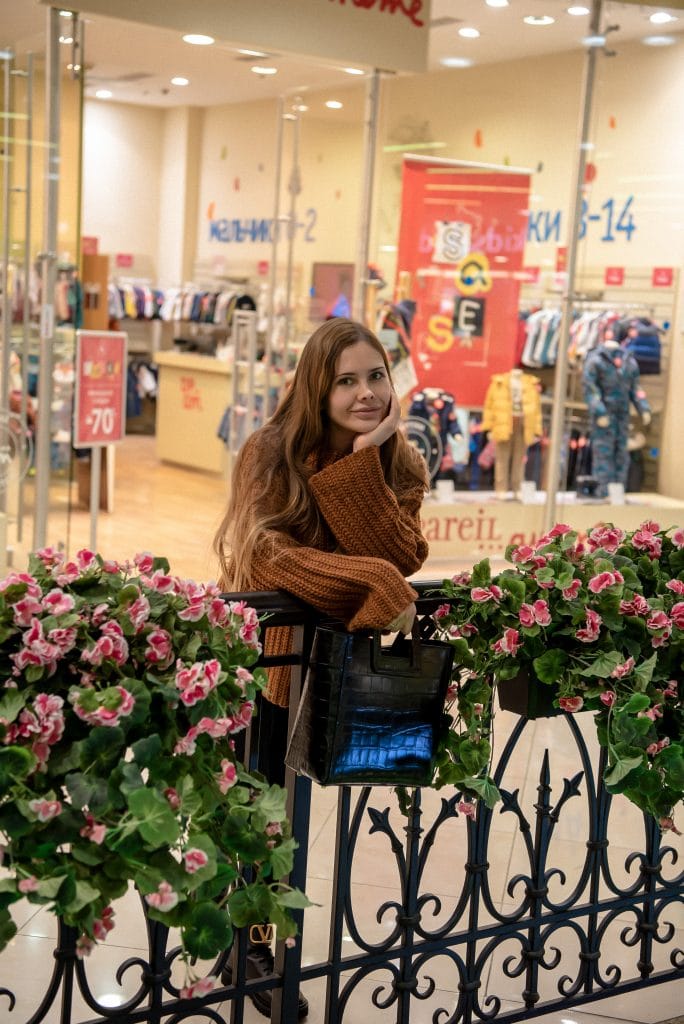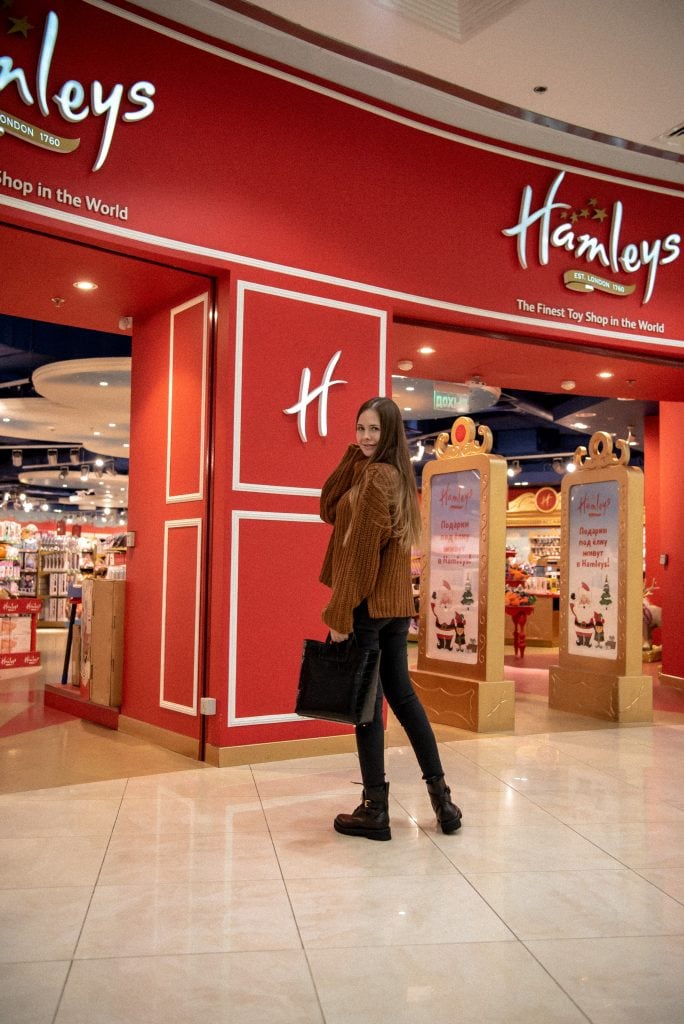 OUTFIT 5
HM top, YAS skirt, Zara handbag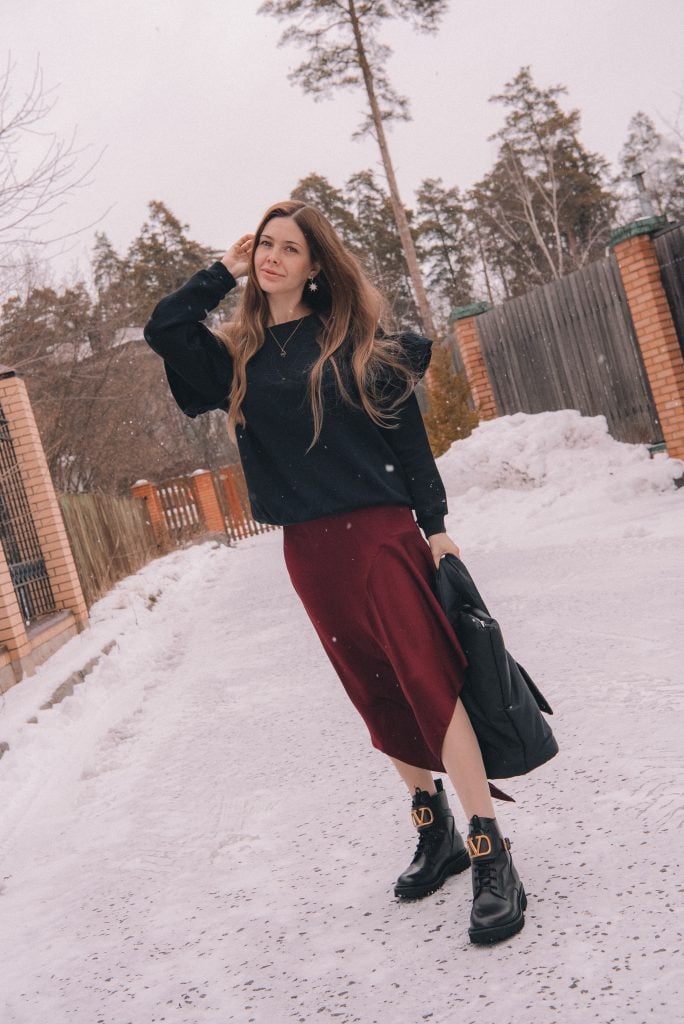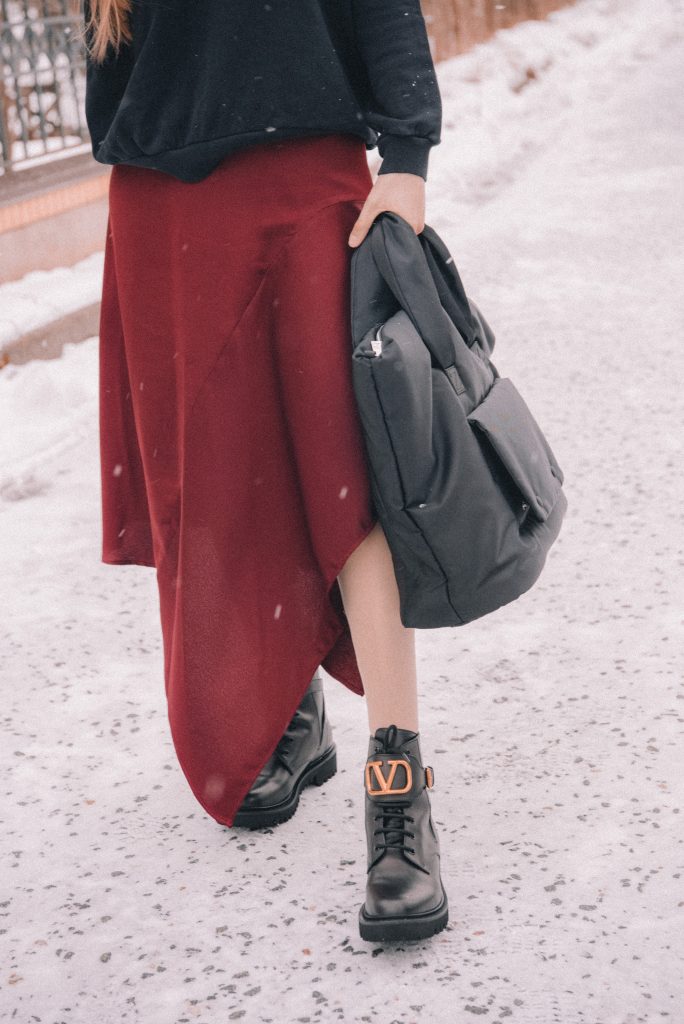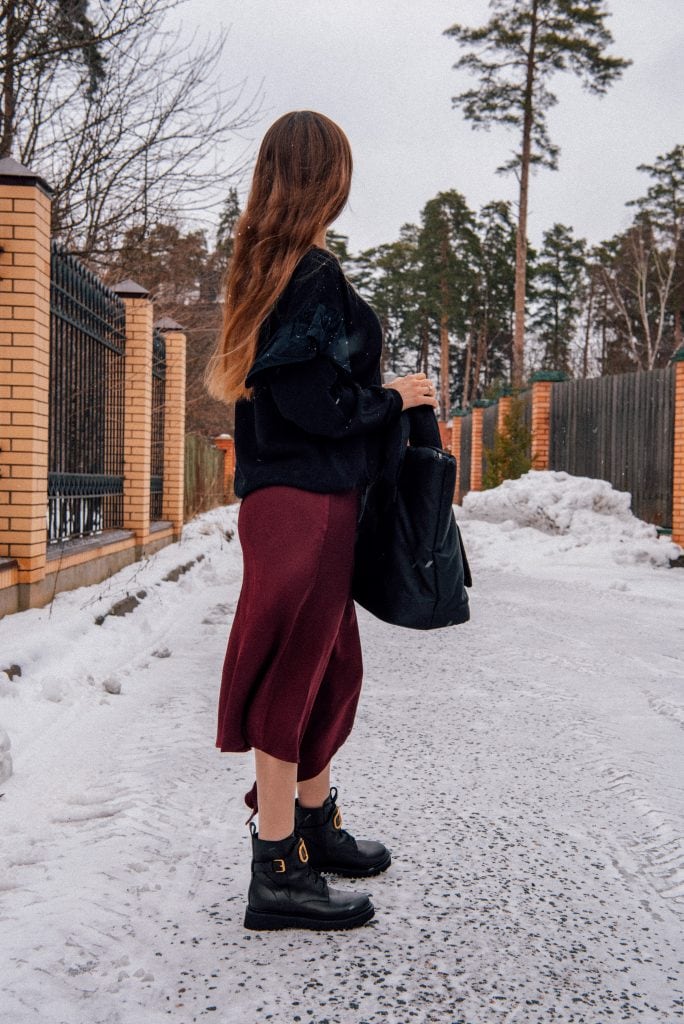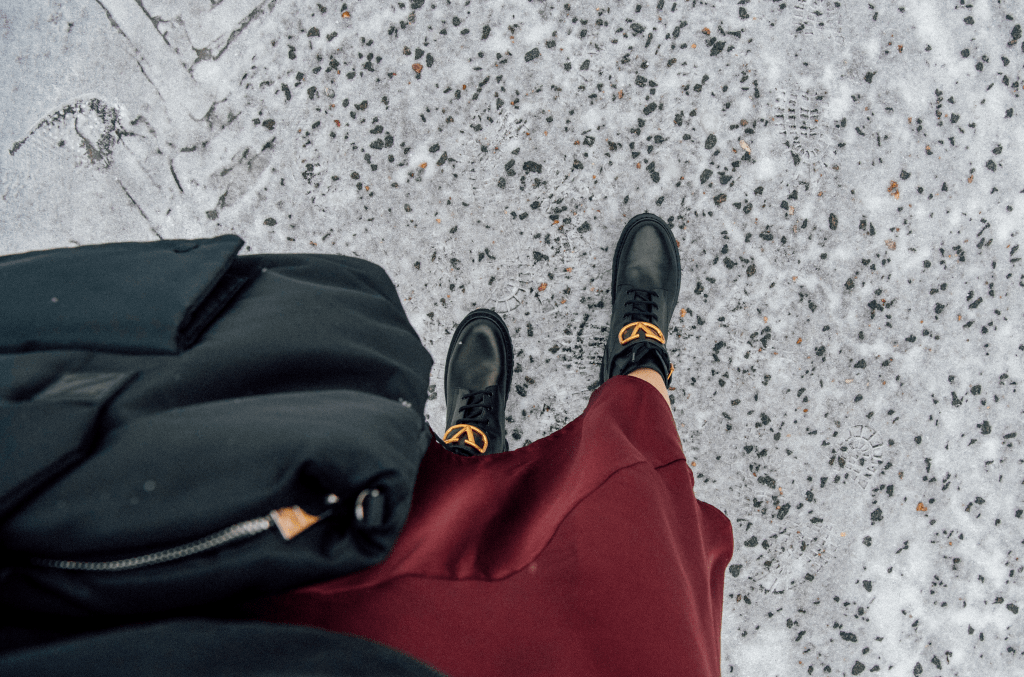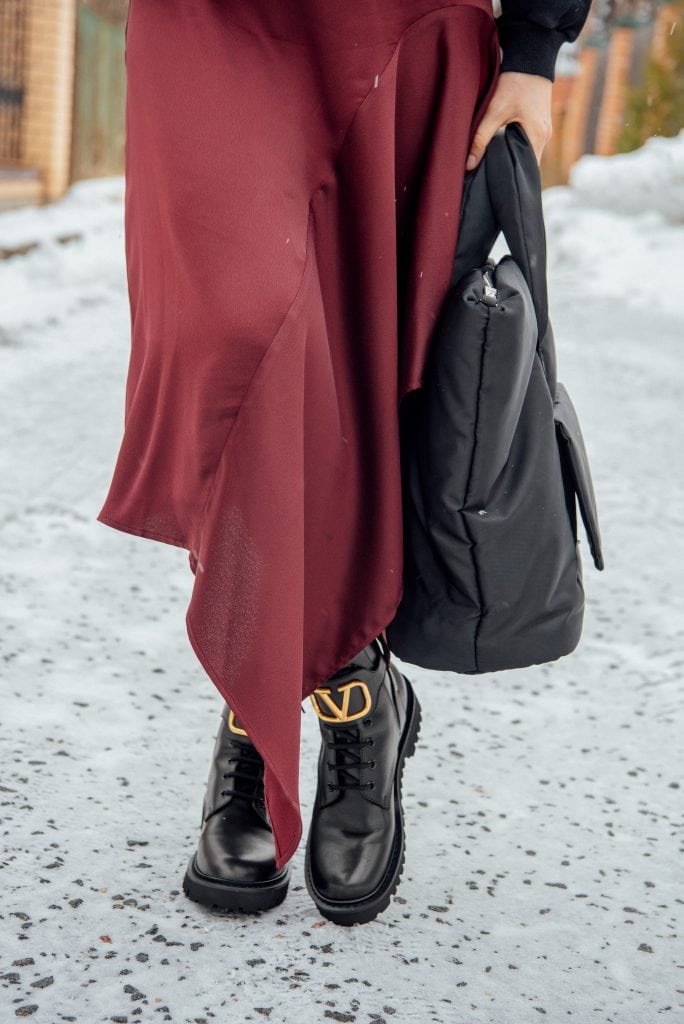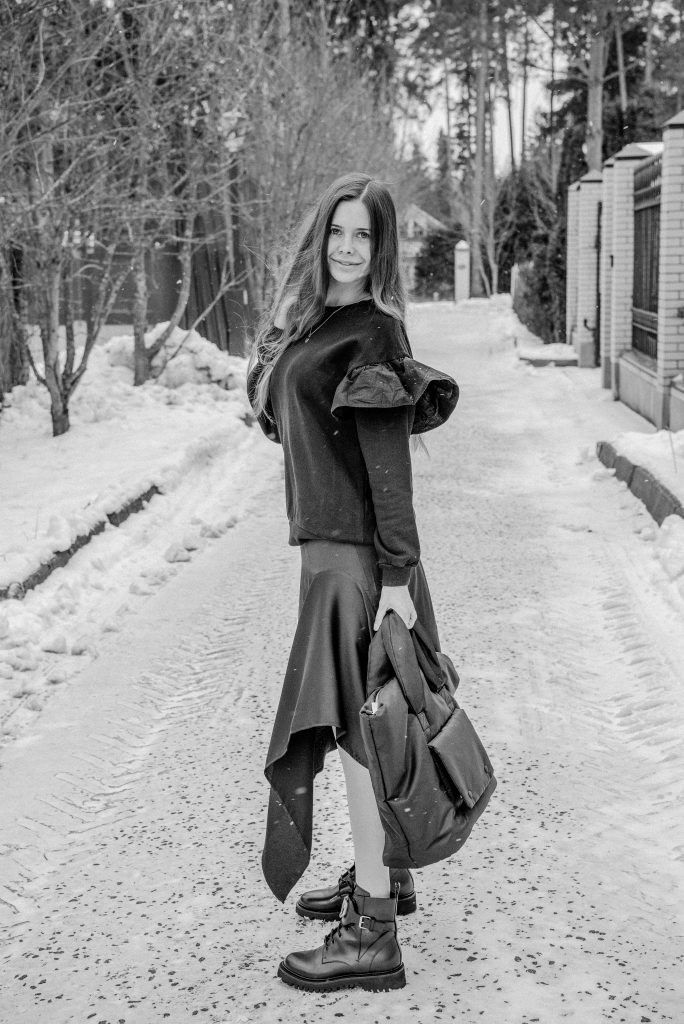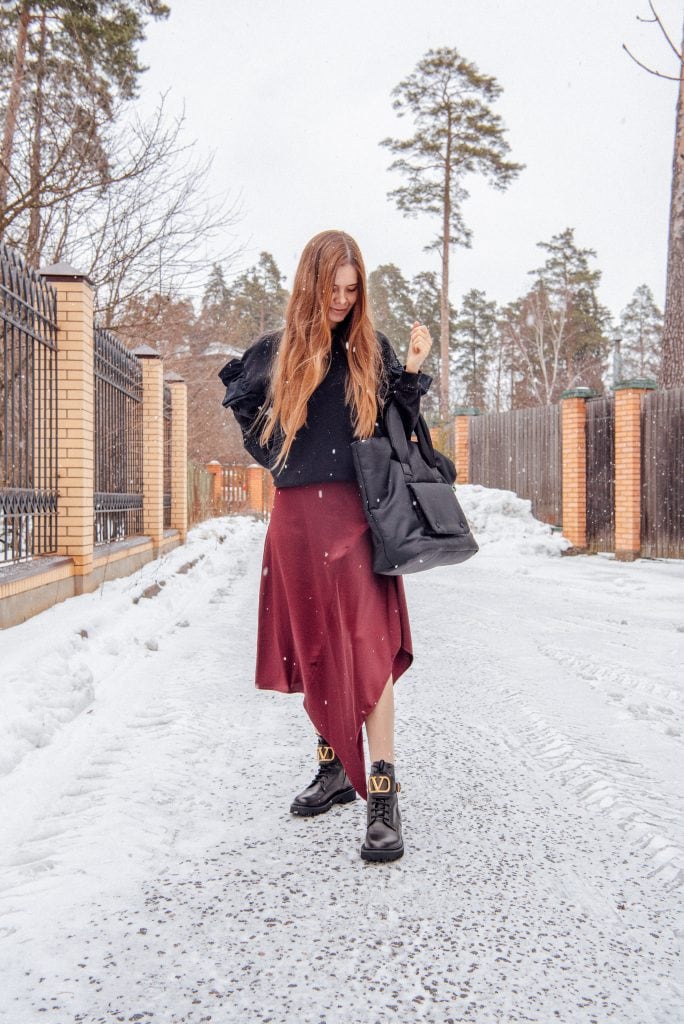 I still have a lot of ideas, and I hope to implement all of them till the end of the season, because then I will begin to look for summer shoes in online stores. So, hurry up and make a purchase, for example, it could be a good present for someone you love or even for yourself ☺

Valentino V-Logo Black Boots: С Чем Носить Ботинки Комбаты?
Знаете, найти идеальную пару черных ботинок – это как найти идеальную пару джинсов: они должны быть удобными, но достаточно универсальными, чтобы можно было носить их практически со всем. И когда ты находишь эти ботинки, то сразу понимаешь: вот она, моя любовь на целый сезон!
Это я к чему? На днях я получила свою долгожданную шопинг новинку: черные шнурованные ботинки с золотистой пряжкой в виде логотипа Valentino Garavani, заглавной буквы V. Вот они, мои новые «комбаты», мой подарок себе самой:
Деталь, которая сразу бросается в глаза – этот самый V-логотип. Я давно хотела приобрести подобные ботинки черного цвета с деталью под золото. У меня уже есть одни черные ботинки Alexander McQueen, но фурнитура на них под серебро, а это требует отдельных сочетаний в одежде.
Почему я решила купить Valentino Boots?
Как занятая работающая мама, я постоянно в движении, поэтому важно иметь стильные, но полностью функциональные ботинки на зиму. При этом я давно перестала покупать по принципу «должно быть в гардеробе как базовая вещь», обувь или одежда должна очень сильно мне понравиться, тогда мы подружимся.
Эту модель я увидела в сентябре в разделе новинок: ботинки-комбаты от Valentino были доступны в моих любимых интернет магазинах для шопинга net-a-porter.com, mytheresa.com и matchesfashion.com. Черная кожа, золотистая фурнитура, высота, все как нужно – отличный подарок! Добавила их в свои виш листы. Только появилась возможность приобрести их, муж захотел лететь с детьми на Кипр, и покупку пришлось отложить.
По возврату денег не было – все потратили на отдых.
Но как только заказчики нового проекта внесли аванс, я все-таки решила больше не упускать свой шанс! И вот они мои!!! Если я посвящаю целый пост покупке – значит обувь мне действительно очень сильно нравится. Безумно счастлива что смогла ухватить свой размер из самого первого выпуска этой коллекции, ведь сейчас на двух из трех шопинг сайтов висит табличка Sold out.
О самих ботинках: просто подарок судьбы
Я бы назвала эту модель одним из лучших вариантов шопинга для мягкой московской зимы (реально до первых снежных заносов!). Они изготовлены из гладкой кожи, имеют круглый носок, передняя часть шнурованная. Сзади имеется язычок, чтобы удобно было надевать их и снимать, но это, впрочем, отличительная деталь всех хороших «комбатов».
Обувь V-Logo Valentino – это не просто красивые ботинки из интернет магазина, они еще и чертовски удобны в ношении! Из плюсов этой модели (кроме столь заметной пряжки):
Круглый носок;
Подошва протектора, очень качественно сделана и позволяет выйти на улицу в любую погоду. А не так, чтобы лихорадочно искать ровный и сухой асфальт! Ведь с детьми не всегда получается);
высота щиколотки – прямо то, что надо! Не давит и подчеркивает изящность этой части тела;
продуманная шнуровка, действительно функциональная, а не просто украшение.
Все эти детали повышают привлекательность обуви класса люкс. Эти «комбаты» настолько удобны, что хочется носить их каждый день. Эх, как же тогда быть с остальными покупками из интернет магазинов? ☺
С чем носить Valentino V-Boots 2020?
Хочется написать «да с чем угодно!», но это было бы слишком просто.
Конечно, это типичный Valentino – все в одном цвете. Необязательно придерживаться этого стиля. Вы можете носить ботинки V-Logo с яркими вещами или просто с белым цветом. Дополните их свитером с круглым вырезом, заправленным в юбку-миди или наденьте с укороченными джинсами скинни.
Фото моих аутфитов чуть выше в этом посте.
У меня еще масса идей в запасе, и я надеюсь все их реализовать, прежде чем сезон пройдет, и надо будет заказывать летнюю обувь в интернет магазине. Так что, поторопимся и сделаем покупку, например, кому-то на подарок или себе лично, пока модель еще актуальна. 
Мои аутфиты за январь здесь